"The son of man is come to seek and to save that which was lost."
The Youth For Christ Hockey League
In the past month I have had a couple opportunities to help out at the Youth For Christ Hockey League, which is run by Evan Peters. I took part in two events, the week long hockey event they run during MB Mission's SOAR Saskatchewan and the YFCHL Bootcamp weekend at Redberry Bible Camp.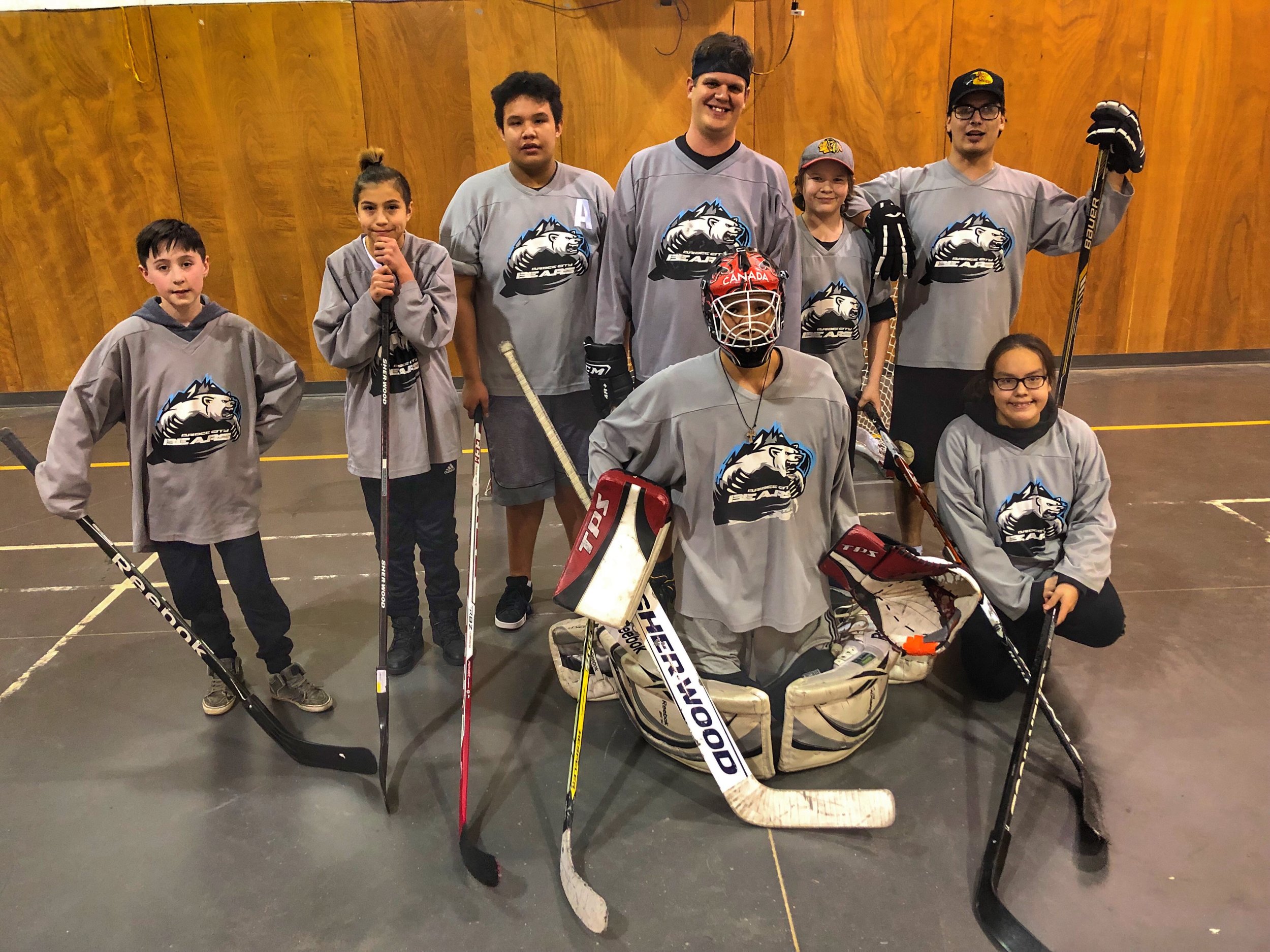 At both events I got to experience and help out with the ministry of the YFCHL, develop friendships with students and see God move in lives. At Bootcamp I coached a team called "The Bears" (see picture). We were only victorious once all weekend but I got to encourage the team to keep up a good attitude and uplift each other despite losses.
The highlight of the weekend for me came as one of the girls on our team named Faith, who was incredibly intense, scored a goal. This occurred the game after she collapsed in the middle of the floor due to an asthma attack. She was a fighter and kept on playing when I suspect others would have quit for the weekend.
I truly enjoyed both events and have talked to Evan about coming out to any functions that take place outside of their weekly league play. I cannot commit to another weekday evening but I love the community God has built and I see the huge opportunity He has opened up and I want to be involved however I can!
How Have I Been Connecting With Youth?
Recently I have had opportunity to take youth out to events outside of the YFC building where we bonded over sporting events, ministered together and hung out. The bulk of this connection has been with students in the grade 6 boys group I lead at The Project at Carpenters Church.
Recently I took a group of 5 boys out to Timberjaxe where we had fun throwing axes followed by coffee at Tim Horton's. I should tell you that not all of these students were ones I have connected with before and in particular one of the more difficult students in our programming came out. For the past month God had been putting this student on my mind and I needed to follow that. So as we sat around at Tim Horton's he shared stories from his childhood, which ranged from really funny to incredibly heartbreaking.
I am praying that God would do a miracle in this young man's life and that I might have opportunity to be a part of this. I would ask that you join me in this prayer of change for him and the life of drugs, partying and brokenness that he currently lives in!
INSPIRE YXE Youth Conference 2019
God has recently lead me into a position as volunteer coordinator at an event taking place in Saskatoon called Inspire YXE. It takes place at Elim Church from April 12-13 and last year was attended by 600+ students from Saskatoon and area. The event brings out speakers, live music and recreation with the goal of inspiring students and sharing the love of Jesus. Many of the students attending are not churched and get to hear from Christian speakers and musicians like, Rick Langlais, Jason Ballard (of Alpha), rapper Veshone, worship band Bold as Lions and many many others.
I am looking for people would like to volunteer their time to help make this event happen. We need help in the following areas: greeting/ushering, lunch serving, prayer team, registration, security, setup, tuck shop, stage hands and recreation/games. If you think you could help please don't hesitate to call, text, email or get ahold of me some other way.
If you cannot volunteer I would ask you to cover this event in prayer. Please pray that the Holy Spirit would move and that students would be change by God. Pray that we have many volunteers sign up and even more students who will attend the event. Thank you in advance for your prayers as I know God loves to hear them!
-Tyler